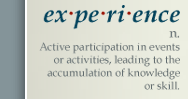 | | | |
| --- | --- | --- |
| | Business Stages for a VC-Backed Company | |

Business Approach
Venture Capital-backed companies go through various stages in their life.
Each stage presents its own set of challenges and requires a different set of skills to succeed. We have been through all of these stages as entrepreneurs and as investors. Consequently, we can add value and guide you through each stage.
Many entrepreneurs come to us in the "Starting" stage.
To evaluate the likelihood of getting them funded, we use our own "More's Law."

Funding = Market x Technology x Team
Market
You need to be addressing a real problem, a real need.
You need to have a thorough understanding of the problem and the currently available solutions to this problem.
You need to understand the gaps in these solutions, that is where do these solutions fall short of the customers' requirements.
The market must also be large enough to justify the investment.
Technology
Most likely, you are deploying a new technology or new approach to solve the problem identified in the market section.
Your technology should be novel, and you should have the ability to protect it by securing intellectual property rights to it (patents).
You need to be able to show that the technology works (proof-of-concept) with six or fewer months of development work.
Team
You need a mature, experienced and high energy team.
Your team should have domain expertise and a successful track record.
Of the four bases - Management, Technology, Engineering, and Sales/Marketing - you should have at least two covered.